A sublet service is a job you do not perform within your shop; but you are outsourcing the completion of the service to another sub-contractor.
In Tekmetric you can create a sublet job for your customers to approve and assign that sublet to a vendor so it is properly capture in your Accounts Payable. This article will go over the following sublet workflow:
Create a Sublet
Navigate to the RO and click into the ESTIMATE tab.
Click the BUILD ESTIMATE button and in the window that comes up, select Add a New Sublet.
A sublet job card will then populate in your job list. Sublet jobs have a different format job table than normal jobs your shop is performing. In the top left field of the sublet job card, you will type in the title of the sublet job. For example, "Towing."

Note: If you are using The Back Office's Accounting Link, we also recommend including the vendor's invoice# in the sublet title so it transfers over into your accounting software and can be easily reconciled.

In the field to the right of the title, you will want to add your vendor. Start typing the vendor name to see if it populates. If the vendor is not within your vendor list, then click the plus (+) sign to the right to add the vendor.

NOTE: This is important because if you do not have a vendor assigned to the sublet, then you will not know who you need to pay for the sublet job.

Next, you are going to add the sublet work. You can add as many sublet lines as you'd like. For example the sublet job line can be called "Towing Vehicle."
Under the Cost Field, you will enter the dollar amount the subcontractor is charging your shop.
Under the Price Field, you will enter the dollar amount you want to charge the customer for this sublet job. You can up-charge or charge the same as a pass-through charge.
Afterwards, add any notes pertaining to the sublet job that you'd like your customer to see.
Click SAVE on the top right corner of your sublet job to save the details you entered.
See Example Below:

Sublet Payment Options
Once the sublet job is saved, you have two payment options to choose from:
1. Not Paid (Send To A/P): This option means you have not paid the subcontractor for this job yet; and so, we will send the sublet to your Accounts Payable to pay for later on.
NOTE: Once the job is authorized, the sublet job will populate in your Accounts Payable. Refer to Accounting Link FAQs for details on when this transfers to Accounting Link.
2. Payment Complete: This option indicates that you have paid for this sublet job already, and do not need to send it to Accounts Payable. If you select this option, a window will appear for you to enter the method of payment as well as any additional details.
See Payment Options Below:

Save Sublet as a Canned Sublet Job
If you create this sublet job often, you can click the star icon on the top right of sublet job card to save this job as a canned sublet. This will allow you to add this job to other repair orders without having to always rebuild it. You can add, delete and manage your canned sublets by going to "Canned Jobs" from the main left hand navigation bar and then clicking the Canned Sublet tab.
See Save as Canned Sublet Example Below:

Complete Payment of Sublet (A/P)
If you select to send your sublet to Accounts Payable, it will populate in your Accounts Payable report. When you are ready to pay for the sublet job you will:
Navigate to the Report section on the left navigation menu.
Under Financial Reports, click into Accounts Payable report.
You will find your purchase orders listed, be sure to click into the second tab, SUBLET WORK.
Check the box next to the sublet job(s) you are paying for, then click the green MARK PAYMENT COMPLETE BUTTON.
You will then select the payment method, add any additional details you'd like, and click COMPLETE to complete the payment.

Note: You can also view all current open and previously paid A/P invoices from within a Vendor's profile. You can also make a bulk payment from the vendor profile.
GIF below has no sound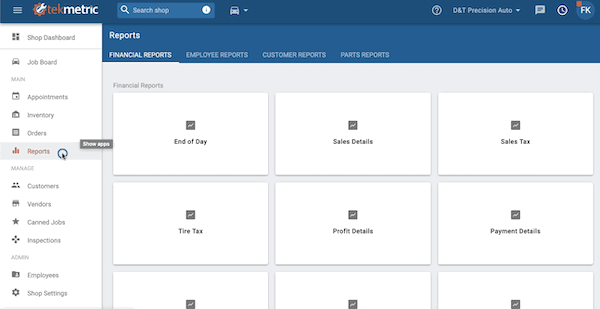 The sublet job will then be removed from Accounts Payable and populate under your vendor's profile as a paid sublet.