Tekmetric has a Resource Center where you can access our knowledge base center, chat with support, vote on upcoming enhancements, and more. However, there are times where the resource center does not populate.
Please follow the steps below to ensure your resource center is accessible.
Step 1) Empty your Browser Cache
Make sure you are using a Chrome browser.
RIGHT click somewhere on your Tekmetric screen and click Inspect.

An element code box will populate on the right of your screen,

ignore it

.

Go to your refresh button on the top left of your browser, RIGHT click it.
Click "Empty Cache and Hard Reload"
Exit out of the element box on the right
Most of the time, the issue will be resolved. However, if you have third-party content filters or security, please follow the next steps.
Step 2) Adjust Security Settings
If you have third-party content filters or security on your browser, you may need to make exceptions for:

Tekmetric
Canny
Pendo
Here is a sample of how to identify a third-party content filter on a Chrome browser. Navigate to the puzzle piece icon to list out all of the extensions on the browser: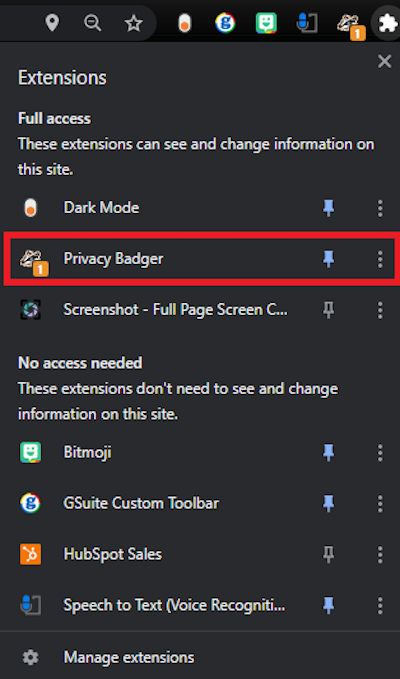 Look for key terms like "Security", "Privacy", "Blocker", "Defense", etc.
Generally blockers will have a notification that they blocked material - like the [1] shown above on Privacy Badger.
Click the extension to reveal the options available:
This application uses a slider to make an exception for the cookie. By sliding the red square to the right, it will no longer block content being captured by Pendo.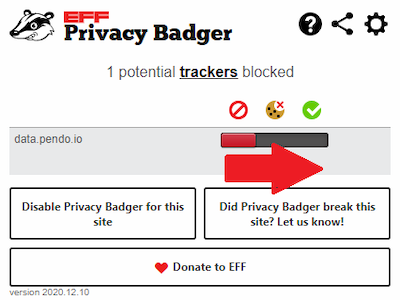 There is a variety of content filters available on the market and each one has its own requirements and navigation. Some are not as easy to identify. In those cases where they have filtering enabled on the networks gateway (Advanced), ask if your IT team to see if they can make exceptions for: Tekmetric, Pendo, and Canny.