In Tekmetric, shops have the ability to select which brands of filters and blades are shown in the RO sidebar. It is important to note the following about this setting:
Any adjustments made to the RO sidebar is a shop-wide setting.
Employees must have permissions to "shop settings" on their employee profile to see the gear icon and make this adjustment.
How to Filter the Brands of Blades and Filters
Step 1. Click the gear icon next to Filters/Blades on the gray RO sidebar on any RO.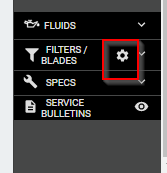 Step 2: Select the brands that you want to appear in the gray RO sidebar and click save.