Tekmetric allows shops to view the job history for a customer or vehicle. This includes approved jobs, declined jobs, draft jobs, and jobs that are saved for later. The job history can be viewed in a variety of ways, including:
1. Job History in the Customer Profile
You can access a customer's job history within their customer profile by completing the following steps:
Click on "Customers" on the left menu and select a customer.
Scroll down to "Customer Details".
Click "Customer Job History".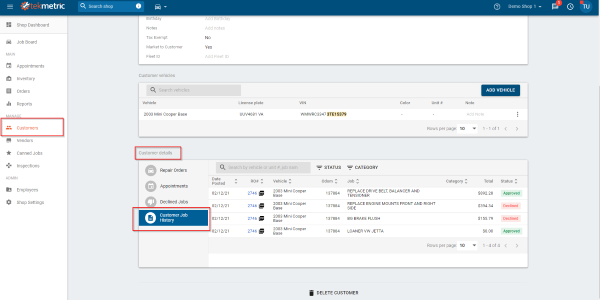 You can filter your results by using the search bar within the Customer Job History section to search vehicles, job names, etc... You can also filter results by job status and job category.
This job history list can be printed out as a PDF to provide to customers if needed.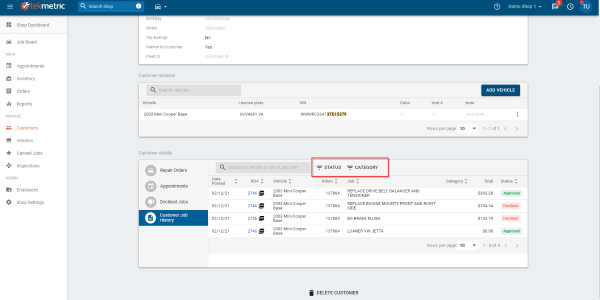 2. Job History on a New Repair Order
You can access job history from within a repair order in two difference locations of the repair. Note that this job history is not for the all jobs this customer has done, but only jobs associated with the specific vehicle on the RO.
The summary tab of the repair order.
2. The estimate tab of the repair order.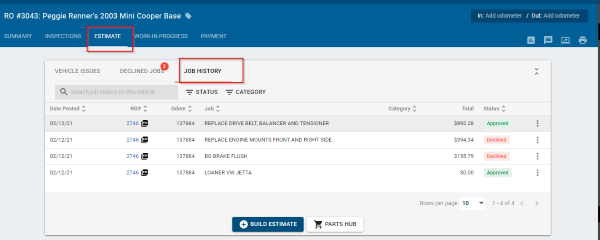 3. Job History on the Appointment Screen
You can access customer job history from the appointment screen. This will be found after you enter the appointment details and get to your appointment summary page.
1. Scroll down to vehicle info.
2. Click on job history.