You have the ability to tie canned jobs to DVI findings to increase the efficiency in which your service writers can build estimates by automatically adding canned jobs tied to inspections once the assigned technician marks the DVI complete. This article will review how to:
Setup Canned Jobs within Your Inspections
1. Navigate to Inspections on the left menu bar.
2. Create a new inspection or Select an existing inspection to edit.
3. Within each group of the inspection, you can map a canned job to the individual tasks by selecting a canned job for your shop's pre-existing list. NOTE: to add a canned job, you must first add it to the canned jobs section of Tekmetric.
4. Click SAVE.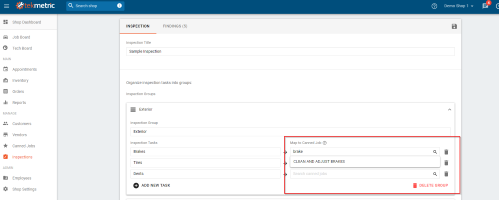 Assigning Canned Jobs to the DVI
1. When you add an inspection to your repair order, you will notice a wrench icon next to the tasks that have canned jobs assigned to them.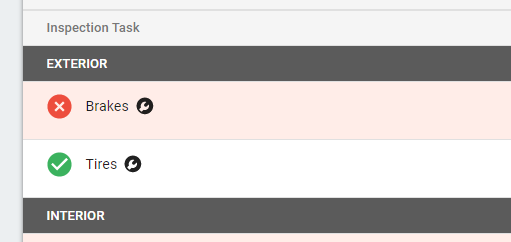 2. Any tasks that are marked red or yellow and have a wrench icon will automatically populate the canned job on the Estimate tab after the inspection is marked complete.
NOTE: If you add assign the same canned job to two different inspection tasks and both tasks are marked yellow or red, the canned job will only populate once on the estimate.
Link Canned Jobs to your DVIs Video