PartsTech is a separate third-party commerce software that the Tekmetric app can integrate with to facilitate ordering parts through an array of suppliers in your area.
Watch the PartsTech setup video here
We've separated the instructions below out into two sections:
Step 1 - Create PartsTech Account or Sign-in
1) Click here to sign up for a PartsTech account. Click "Sign Up Free" on the top right corner of the screen.
2) Account Type - Select the Shop Owners option by clicking "Sign Up As a Repair Shop"
3) Account Info - Set up your username, email, password and click "Next"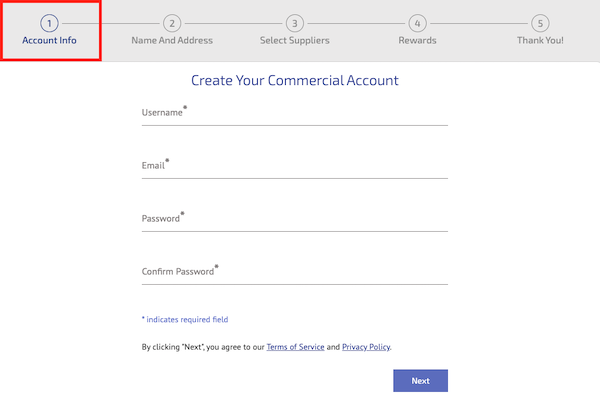 4) Name And Address - Enter your name, shop details, and shipping. Once you fill our your information, click "Next" on the bottom right.
4.1 - For Shop Management System, put Tekmetric.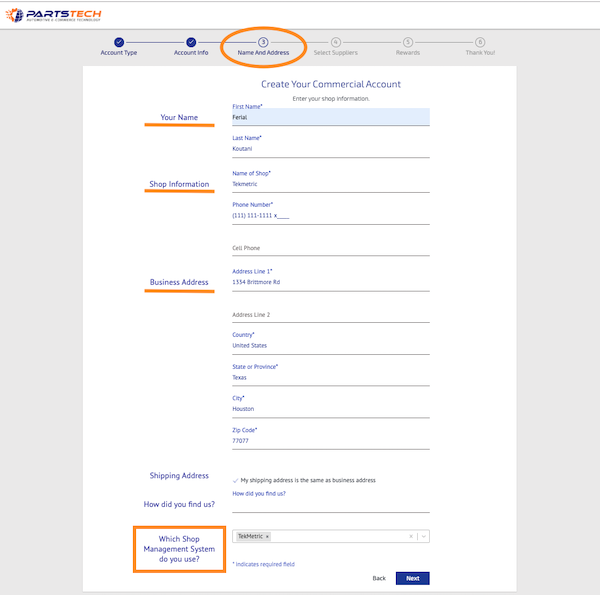 5) Select Suppliers - Select desired parts suppliers
5.1 - PartsTech will use your shop address to find parts suppliers in your area (limited to 25 miles). The default is up to 5 suppliers, but if you'd like more, please contact their support and they will be more than happy to accommodate. For each supplier you select you will be prompted to enter your account information or have PartsTech help you get your account information. Below is a list of most commonly used suppliers.
GIF Below Has No Sound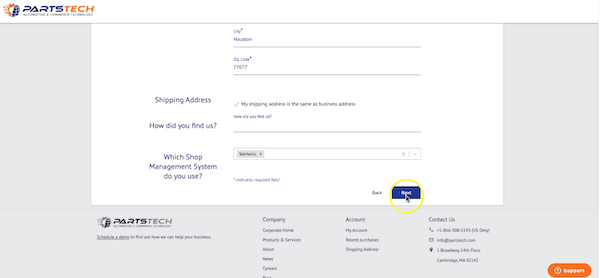 Advanced Auto Parts: Customer Number (Longer Approval Time) or SMS Username & Password (Instant Account Setup)
Autopart International: Customer Number and Online Ordering Password (i.e. "SMS password" or "Openwebs password")
Autozone: Autozone PIN
Napa: TAMS Password - usually a 6-character combination of the letter "D", a series of zeros, and your account number. (i.e. If your account number is 4321, then your TAMS password would be "D04321")
SSF: Username & Password
XL Parts: Customer Number
NOTE: For detailed instructions on any suppliers, visit PartsTech Knowledge Base articles by clicking here
6) Once you complete registration, you will need to activate and confirm your account
7) Once parts suppliers are set up in PartsTech, you will need your API key and username
7.1 - Login to PartsTech and click the hamburger menu on the top left corner.

7.2 - Select 'Profile + API key'
7.3 - Copy or Write down your PartsTech username and API key.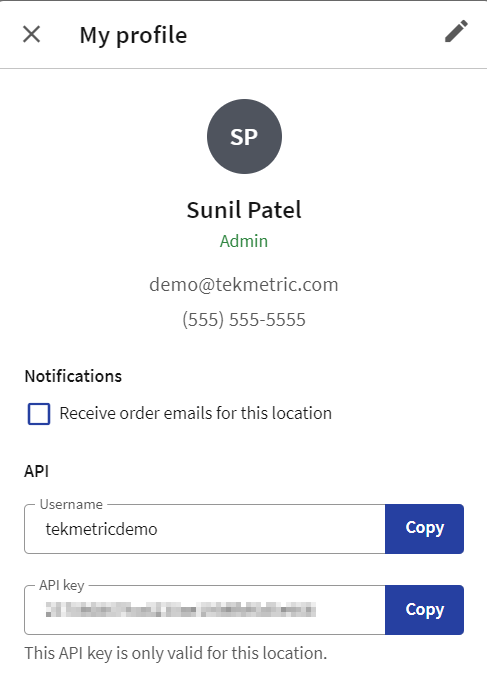 Step 2 - Integrate PartsTech account with Tekmetric
1) Click the SHOP SETTINGS section on the bottom of the left menu bar
2) Click the tab 'INTEGRATIONS'
3) Click "MANAGE" from the PartsTech box.
3.1 - A window will appear for you to enter your PartsTech username and API
3.2 - Paste or enter the PartsTech username and API
3.3 - Click "VERIFY & SAVE"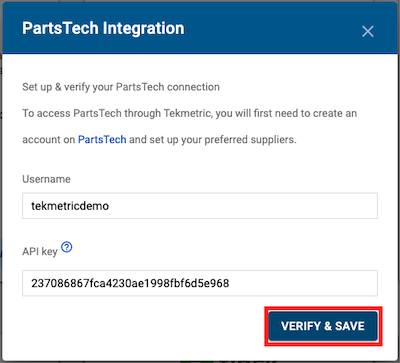 Disconnect PartsTech from Tekmetric
1) Click the 'SHOP SETTINGS' section on the bottom of the left menu bar
2) Click the INTEGRATIONS tab
3) Click "MANAGE" in the PartsTech Box
4) Click "DISCONNECT"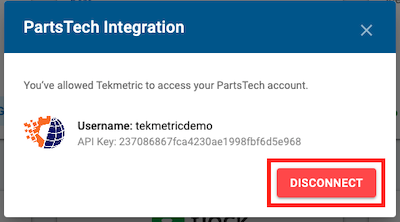 If you have any questions, please contact us at support@tekmetric.com.