Setting your labor rate is the most important part of your business and should be re-evaluated at least once a year. Your labor rate should not only be fair for your customers, but also fair to you as a business – meaning, it should cover your hourly cost of any techs performing the work. Labor sales should count for about 55% percent of your gross sales. Once you hone in on your labor rate, you'll have a better understanding on how you can adjust it to maximize revenue.
So, where do you start with figuring out what your labor rate should be?
First, you'll want to figure out the "loaded" hourly rate of your employees including payroll taxes and any benefits you offer. The labor rate should not only cover this loaded cost - this is the bare minimum you will have to charge in order to break even. Work with your accountant or make a list of each of your employees pay rate plus any state and/or federal taxes you pay. If you offer your employees any benefits, be sure to include those as well by taking the annual amount you pay for that employee and divide by the # of working hours in a year. Of course, covering costs is adequate, but our goal is to make a profit on labor rates. On average, Tekmetric shops have labor profit margins of 65%. For example, this means that if you have a technician with a loaded cost of $50/hour and you want to make a 65% profit margin (about $93 profit dollars per hour billed), your labor rate should be $143. If you're having trouble thinking through the math around margins, revenue and costs, check out this handy calculator.
Next, figure out what your competition is charging. Contact local repair shops and dealerships to get a good baseline of what is being charged in your area. You want to maximize your labor rate and profits, but not at the expense of driving business to other competitors because your shop is so much more expensive than what the competition is offering. Below are some helpful resources linked:
Our

index reports

- t

his will give you ideas on what Tekmetric shops are charging for labor per state.

Ratchet and Wrench offers some additional insight and considerations when figuring out your shop's ideal labor rate (

link to article here

).
Lastly, the shop labor rate is the hourly rate you charge your customers. Customers will never see this rate (unless you set it), and you can enter multiple rates for different kinds of customers.
How to Setup Labor Rates in Tekmetric
Click the Shop Settings section on the bottom of the left menu bar.
Click the 2nd tab, RO SETTINGS.
RO Settings table - This table is where you setup most information regarding your repair order and estimates. It is where you set up your labor rates, shop fees, discounts, taxes, job categories, other payments, and advanced settings.
Click into the Labor Rates section to set up the hourly labor rate(s) you charge in your shop. The first listed labor rate will be your default when creating repair orders.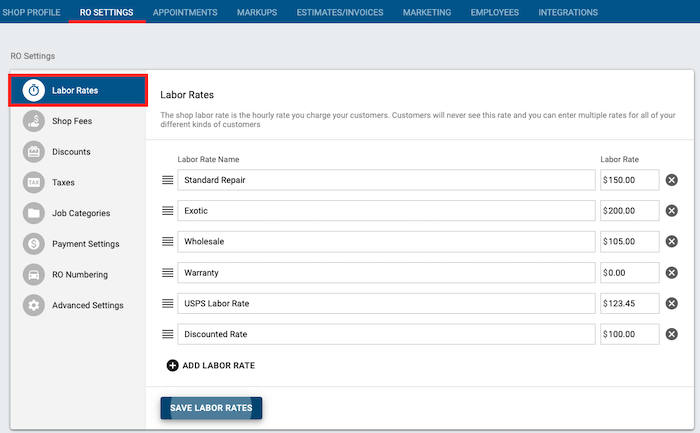 Add a New Labor Rate
Click ADD LABOR RATE button, then specify the "Labor Rate Name" and dollar amount under "Labor Rate."
Click SAVE LABOR RATES button to save the changes made.
Remove a Labor Rate
Click on the X icon to the right of the labor rate ro

w that you would

like to remove.
Click SAVE LABOR RATES button to save the changes made.
Reorder Labor Rates
Click on the drag & drop icon (3 horizontal lines) to drag up or down a labor rate.
Click SAVE LABOR RATES button to save the changes made.
This is the order labor rates will appear in the drop down when you are building repair orders.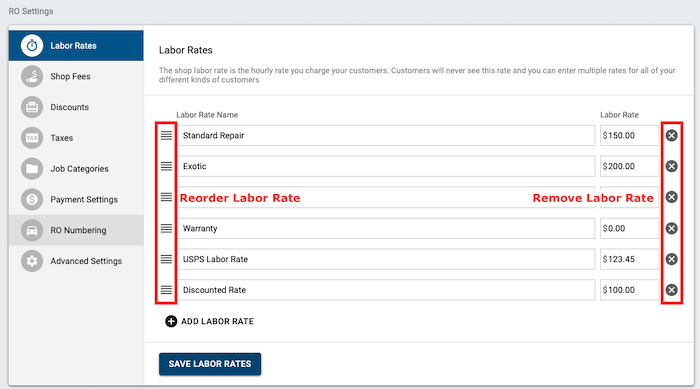 If you'd like to markup your labor rate to increase your gross profit, we recommend setting up your labor matrix.