Now that you've added your labor rate(s), you want to protect your business in a court of law by adding your disclaimers. These disclaimers will appear on both the customers' estimates and invoices.
Terms of Service is where you can add your shop's verbiage for disclaimers, warranties, or any other information you'd like to include on estimates and/or invoices. Ideally, these would be written for your shop by an attorney; however, we understand not every shop has the resources to have an attorney draft up a custom terms of services.
There are plenty of free resources online with drafts and examples. If you're already part of the Tekmetric network, our Facebook TUG group has thousands of friendly users who are willing to help other Tekmetric shops.
Be sure to confirm your disclaimers are in compliance with any state and local requirements.
Setup Service Disclaimers
Click the Shop Settings section on the bottom of the left menu bar.
Click the 5th tab, ESTIMATES/INVOICES.
Estimate & Invoice Details table - here you control what your customers see on the invoices & estimates, and your Terms of Service.
Select the Terms of Service section to set up your Terms of Service for estimates and invoices.

ESTIMATE TOS

- Here you will create your Estimates Terms of Service. Once you have customized it, click "SAVE" to save the changes made.

INVOICE TOS

- Here you will create your Invoice Terms of Service. Once you have customized it, click "SAVE" to save the changes made.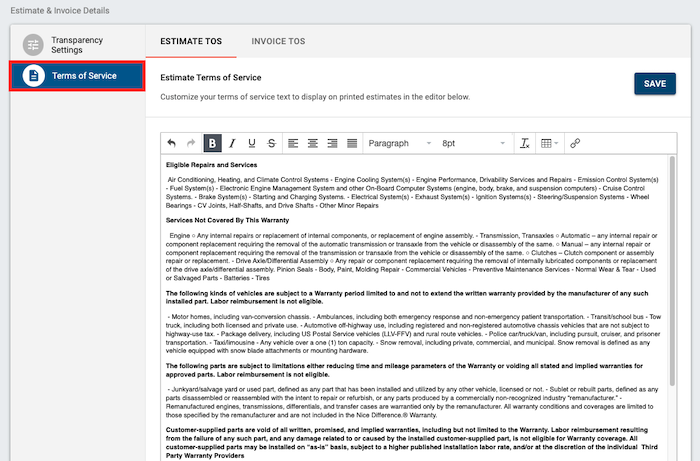 How to Upload Image/Signature into Terms of Service
Scan the signature with a high resolution.
Email yourself the scanned image. This will need to be copied into the body of the email, and not sent as an attachment.
From your email, right click on the image, there will be an option "Copy image", select it.
Go to Shop Settings on the left navigation menu and navigate to the Estimates/Invoice tab. Once you are there, click Terms of Service section.
Wherever the signature/image is needed, right click and select Paste. The size of the image can be adjusted by clicking the image and dragging the little squares in the corners to your satisfaction.
If the image is blurry or unreadable, then rescan the signature to a higher resolution (Step 1) and go through this process again.