Tekmetric's Lead Source feature can be used in two different methods:
Customer Lead Source
This is entered when you are creating a customer for the first time and helps you track where your customers are originating from. For example, a customer's Lead Source could be a Yelp Coupon they received.
Where to find Customer Lead Source (within Customer Profile):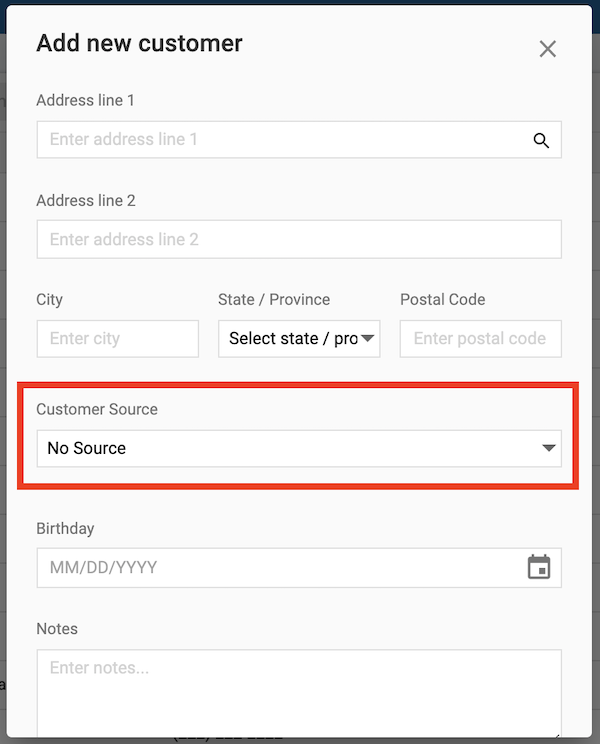 RO Marketing Source
This is not related to the customer, but rather what brought a customer in for each visit. For first time customers, the Customer Lead Source & RO Marketing Source are the same. For returning customers, the RO Marketing Source can provide additional insight into what marketing campaigns (if any) are working to get customers back...or if it's just your great service!
Where to find RO Marketing Source (within Repair Order):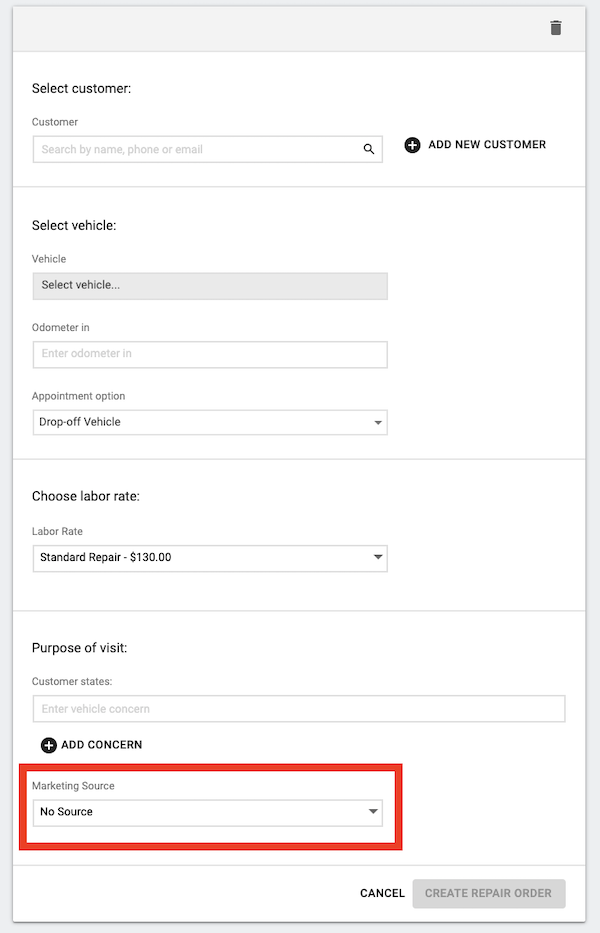 Managing Lead Source List
Click the Shop Settings section on the bottom of the left menu bar.
Click the tab, MARKETING.
Marketing section - here you can manage your lead source list. The same list is used on both the first time customers (Customer Lead Source) and on each repair order (RO Marketing Source).
Click Lead Sources to manage your lead sources.
Add Lead Source
Click ADD SOURCE button, then enter the lead name under 'Source Name'. You can add as many lead sources as you'd like.
Click SAVE SOURCES button to save changes made.
Delete Lead Source
Click the X icon on to the right of the lead source to delete it.
Click SAVE SOURCES button to save changes made.
Reorder Lead Sources
Click on the drag & drop icon (3 horizontal lines) to drag up or down a Lead Source/
Click "SAVE SOURCES" icon to save changes made.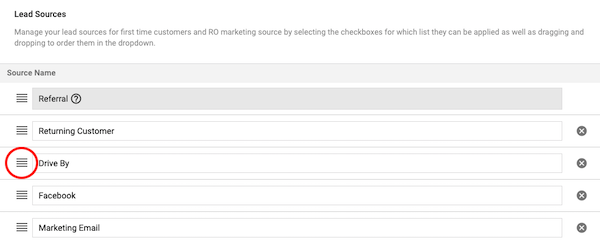 Notes: Even after you delete a lead source from your list in Shop Settings, it will still be included in reports for where it was historically used.