Nexpart allows you to have as many parts suppliers set up as you wish. Each Nexpart integration is separate and will launch a different portal for each vendor. Depending on the Nexpart vendor(s) you choose and if they have ACDelco Connection, you can not only add parts to your cart, but add Mitchell labor times as well that can be imported into Tekmetric.
Watch the setup and ordering video here.
We've separated the instructions below out into two sections:
Step 1 - Setup Nexpart Accounts
1) Call or email your existing suppliers that are offered through Nexpart (see table below for common vendors list and associate contact information)
2) Ask for your Nexpart credentials for Tekmetric. Once the username and password are given to you, write them down
NOTES:

You will get different credentials for each part supplier account you have.
The processing time for each vendor can range from 5 minutes to 5 days.
This list is not fully exhaustive. If you do not see one of your suppliers here, you can contact your supplier representative to see if they have a "Nexpart" / "WHI Solutions" connection.
Vendor

Phone

Contact

Email

1-800 Radiator

1-800-420-2693

Advanced Auto – CarQuest

877-280-5965 option 2

General Support

Advance Auto Parts

1-877-280-5965

press 2, then press 1

General Support

Autopart International

781-784-1111

1-800-242-5700

Auto Plus

800-678-5841

Autozone

1-866-853-6459

press 1

Electronic Ordering Help Desk

Benson Tire

613-933-1700

Carparts Warehouse

216-676-5100

Concho Supply

325-949-4649

Factory Motor Parts

855-FMP-CONX

Fast Under Car

925-595-9059

Fisher Auto Parts

540-885-8901

H&H Warehouse

818-771-0926

661-951-2222

661-380-7775

Arleta

Lancaster

Bakersfield

IMC

1-800-874-8925

Ken Smith Auto Parts

1-800-756-8003

Napa

1-800-742-3578

General Support

National Parts Warehouse (NPW)

1-800-344-0368

National Pronto

1-800-477-6686

O'Reilly

1-888-327-7153

1-800-934-2451 (press 2)

General Support

Firstcallsupport@oreillyauto.com

Parts Authority

(833) 380-8511

Tom Hager

Pep Boys

757-270-4175

Joe O'Campo

Poorman's Warehouse

316-265-6284

Seattle Warehouse

1-800-932-3500

Bryon Dillon

Stonewheel

630-986-2650

Patty Hurst

Superior

925-771-2229

The Parts House

904-731-3034

US AutoForce

800-490-4901

920-278-4137

920-574-7098

Jennifer Fletcher

Client Systems Analyst

Valley Automotive Distributors

650-583-9525

XL Parts

713-983-1100 press 2 for accounts receivable then ask to be transferred to IT
Step 2 - Integrating Nexpart Accounts with Tekmetric
Connect your part suppliers to Tekmetric via Nexpart
1) Click the Shop Settings section on the bottom of the left menu bar
2) Click the tab 'INTEGRATIONS'
3) Click "MANAGE" from the Nexpart integration box
4) Click "NEW VENDOR"
5) Enter Vendor Name
6) For Nexpart NexLink Login, type in the Username that was given from your part supplier
7) For Nexpart NexLink Password, type in the password that was given from your part supplier
8) Click "SAVE"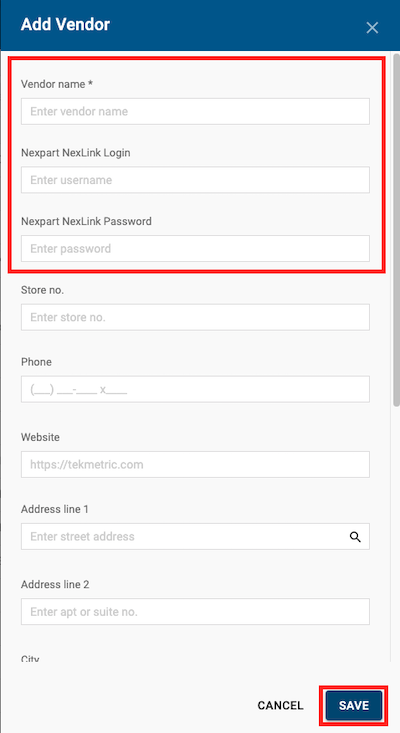 Disconnect Nexpart
1) Click 'Vendors' section on the left menu bar
2) Click on the vendor that you would like to remove that is integrated with Nexpart
3) Scroll to bottom of page
4) Click "DELETE VENDOR"
5) A window will appear, click "DELETE"