SpeedDIAL is Worldpac's Native Parts Catalog and fulfillment ordering system. Since it is a desktop application, it does require downloading and installing the application on each computer you plan to use it on. 
Watch the Setup Video Clip here. 
Step 1 - Setting up

Worldpac SpeedDial
If you already use SpeedDIAL, then it will already be installed on your computer and you can skip ahead to Step 2.
If you already have a Worldpac account, but have never used SpeedDIAL, download the SpeedDIAL application here
If you have never used Worldpac, you will need to request a Worldpac account by clicking here and then download the SpeedDIAL application. You will not be granted an account immediately and should expect the process to take about 3 days to a week.
Step 2 -

 Integrating

Worldpac SpeedDial with Tekmetric
WARNING: SpeedDial is only able to be connected to one shop management system at a time, so you should not connect it to Tekmetric until you no longer plan on using it with your old system.
Follow the steps below to integrate with Tekmetric once you have SpeedDial application installed on the computer(s)
1) Open Worldpac SpeedDial
2) Click 'View' on the top left corner of your screen
3) Click 'Preferences' on the bottom on the View menu
4) Click 'Shop Software' 
5) You should have it set the following way on each separate each other: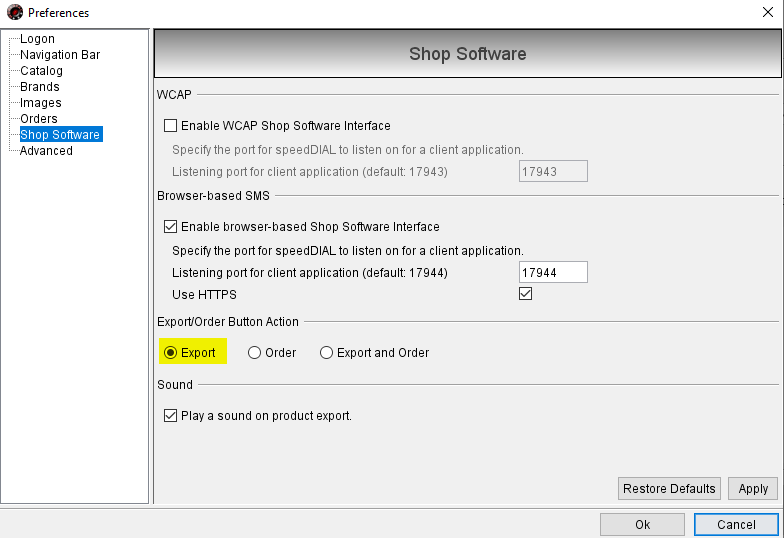 6) Once you confirm that your Shop Software Settings match the image above, click Apply and make sure you keep Worldpac SpeedDial open and running.
7) Open Google Chrome and log into Tekmetric.
8) Click Shop Settings section on the bottom of the left menu bar.
9) Click into the INTEGRATIONS tab
10) Click MANAGE from within the Worldpac SpeedDial Integration box 
11) Uner Step 1 where it asks to select Default Vendor, start typing in "Worldpac." If it does not come up, click the plus icon (+) to the very right.
12) In the window that appears, type in "Worldpac" under vendor name, then click SAVE.
13) Once the vendor is added, click SAVE on the bottom right of the window. The Worldpac Integration should now say connected.