In the Customer section, you can add, delete, edit, merge or even transfer vehicles from one customer profile to another.
In this article, you will find information on how to transfer a vehicle from one customer to another.
Transfer Vehicle
Click the

Customers

section on the left menu bar
Click on the desired customer you want to transfer the vehicle from
Click on the three action dots to the right of the vehicle you would like to transfer
Click "Transfer Vehicle"
Type in name, phone, or email of the customer you want to transfer the vehicle to and select their profile.
Select the type of vehicle transfer you'd like to perform
Click CONFIRM to transfer the vehicle.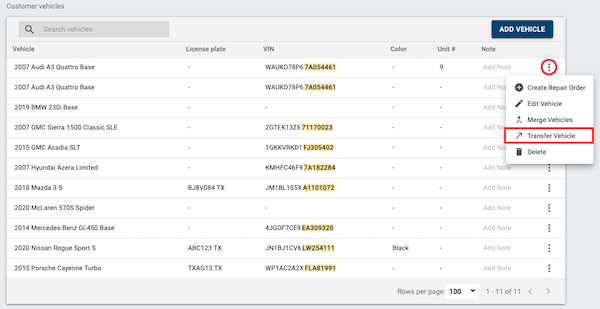 Transfer Vehicle Options:
Transfer Vehicle Only: This option will only transfer vehicle's information (YMME); however, no job history or invoices will be transferred.
Transfer Vehicle & Searchable Job History: This option will transfer vehicle's information and any job history associated with the vehicle. The invoices will stay with the original vehicle owner and the lifetime statistics will not be affected.
Transfer Vehicle, Job History & Invoices: This option will transfer all the information and invoices related to the vehicle. The original vehicle owner will no longer have those invoices and the lifetime statistics will be affected.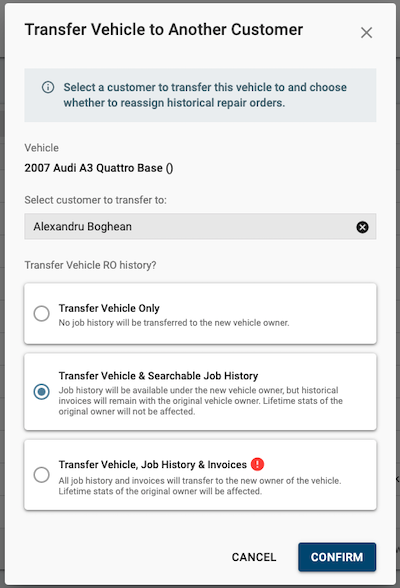 NOTE: Once you transfer the vehicle, it can not be undone on the back end. You will need to go into the new vehicle owner's profile, and send it back to the original customer.