Job clock in Tekmetric is to track your technicians' efficiency when working on approved jobs. This article explains what owner and shop admin permissions are and how the job clock is incorporated into reporting.
Please note that the job clock is to track efficiency of your technicians, not to pay your technicians. The hours billed to your customers are what considered in the Technician Hours report.
Owner/Shop Admin Job Clock Permissions

You can start/stop all time clocks on every job in the Work-In-Progress section of a repair order
You can also edit a technician's time on the job
Edit Technician's Time
Click into the Repair Order your technician is assigned to.
Then click into the WORK-IN-PROGRESS tab.
Click the edit pencil icon to the top right of the job card, next to the green "Completed" status.
Type the desired time you would like to change it to.
Click SAVE.

Job Clock in Employee Reports
Click into Reports on the left navigation menu
Then click into the second tab, "EMPLOYEE REPORTS"
Click into Technician Hours.
Here, you can compare the time that was billed to the customer to the time it took the technician to complete the job. In this report you will also be able to track technician efficiency.
NOTE: Efficiency = Billed Time/Actual Time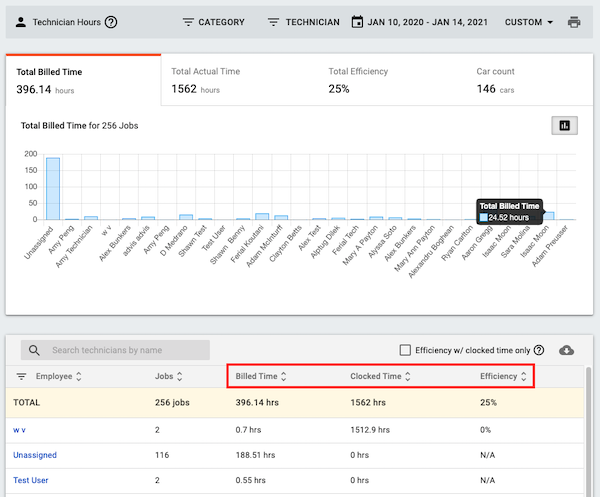 Job Clock in Sales by Job Category Report
Click into Reports on the left navigation menu
Then click into "Sales by Job Category" report, under Financial Reports.
Here, you can compare the efficiency of your technicians per job category. This will help show how long certain types of jobs are taking.
For an example - if your technicians efficiency is about 20% for Engine jobs, then maybe you can bill your customers for more labor time since it is taking your technicians much long than what is being billed.