The ability to quickly and efficiently take care of a customer is key for them having a great experience and wanting to come back in the future. Having your parts suppliers connected to Tekmetric will allow your service writers to search, quote, and order parts by a click of a button, instead of spending hours on the phone.
Pro tip:
Take advantage of our Repair Link integration to have access to OEM parts catalog, their availability and pricing, or even use the catalog as a reference for parts you're having difficulties finding with other aftermarket suppliers.
Tekmetric integrates with five free online parts ordering marketplaces to make shopping and ordering parts easy!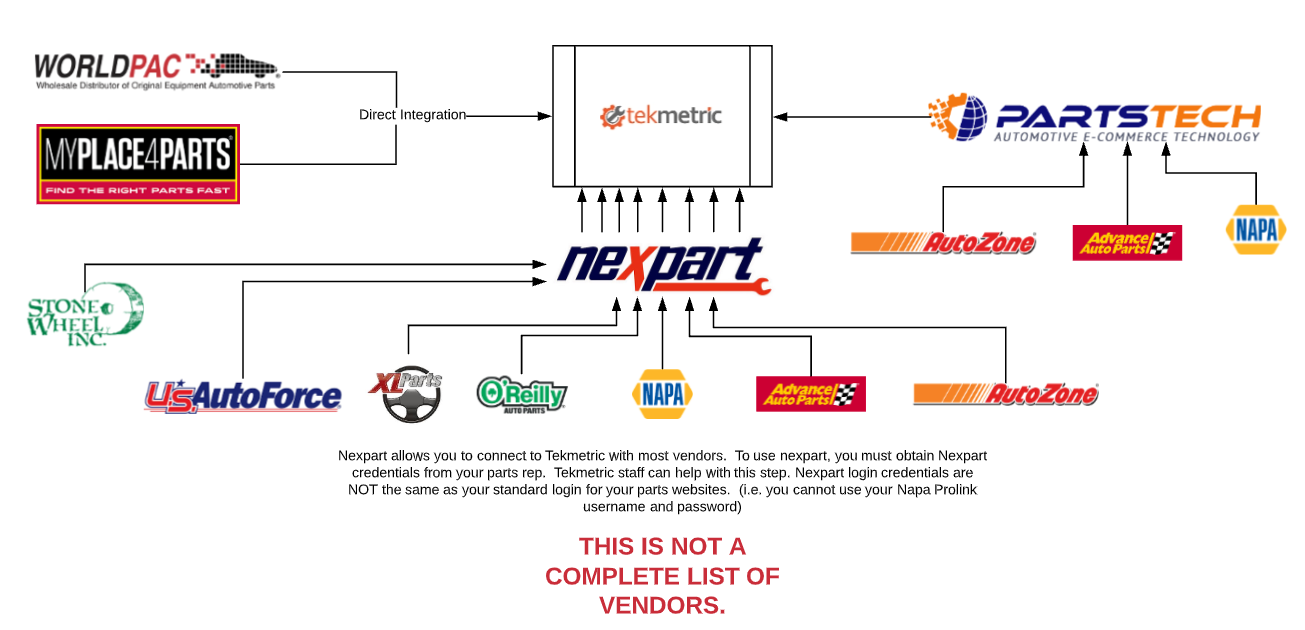 From within Tekmetric, you can launch one of the three integrations, fill your cart, and have the information automatically import back into Tekmetric. All it takes is one click in Tekmetric to convert the part quotes to orders upon receiving customer approval.
Each supplier integration works a little differently and offers different part vendors. Tekmetric provides you flexibility to use all three integrations or none at all.
NOTE: If you do not set up any of the three portals, you will need to submit all part orders via phone or separate software and then manually enter the order details into Tekmetric as a "Phone Order" from Parts Hub.
Each of these are independent third-party companies, so we recommend you setup these part supplier integration(s) in Tekmetric prior to your Launch so your shop is ready by the time you officially start using Tekmetric.
PartsTech integration allows you to choose an array of suppliers within a 25 mile radius of your shop and easily compare prices and delivery times between all suppliers.
To learn more about setting up PartsTech in Tekmetric, please visit PartsTech Integration Article.
Nexpart allows you to have as many part vendors setup as you wish.
Each vendor integration with Nexpart is separate and will launch a different portal for each website.
To learn more about setting up Nexpart in Tekmetric, please visit Nexpart Integration Article.
SpeedDial is Worldpac's Native Parts Catalog and fulfillment ordering system.
Since it is a desktop application, it does require downloading and installing the application on each computer you plan to use it on.
To learn more about setting up Worldpac SpeedDial in Tekmetric, please visit Worldpac SpeedDial Integration Article.
MyPlace4Parts is a parts ordering system specifically designed for the professional service dealer.
You will need to retrieve your MyPlace4Parts Seller ID and Buyer ID from your parts suppliers.
To learn more about setting up MyPlace4Parts in Tekmetric, please visit MyPlace4Parts Integration Article.
AdvancedPro integration is a parts ordering system specifically designed that will allow you to quote and order parts through existing Advanced Auto Parts account.
You will need to retrieve your Advanced Auto Pro Account ID and Account Key.
To learn more about setting up AdvancePro in Tekmetric, please visit AdvancePro Integration Article.
PRO TIP: You can use multiple integrations for a single vendor. For example, you could have NAPA setup through both PartsTech and Nexpart, and use either integration portal when ordering. If you choose to use a single supplier across multiple portals, then you will have multiple vendor profiles for the same vendor.