In order to have a successful inventory management system, you need to understand how your inventory is suited to the needs of your customers. You also need to understand the quality of the parts that are kept in the shop, and how to minimize inventory that is not being sold.
Having a process in place to ensure that the inventory parts coming in from the parts vendors match with the count on the invoice will be crucial for reconciling your purchase orders properly. This is done by making sure that each part is stored in its own designated area, such as a shelf or cabinet, and is properly labeled. This will help your team be organized and make it easier for techs to look for needed parts. Once you organize your inventory, you should implement a process to require purchase orders for all parts added to inventory and repair orders within Tekmetric. This will allow you to have a record of purchase within your shop management system, and to allow for easier reconciling by using our parts reports. In addition, we recommend you perform a standard inventory count every month or even weekly to be certain that everything is in order and accurate.
A simple example of what would happen if you didn't have a system or process in place for inventory would be when a vehicle is in for an oil change and the customer is waiting. The advisor or technician looks up the part and shows that there is one in stock. However, he proceeds to look on the shelf and there is no part. As a result, the vehicle is now delayed getting serviced and the customer will have to wait longer than expected for the service to be completed. When inventories are accurate, workflow will be more efficient, customers and service advisors will be happy, and technicians will be able to provide the most effective service.
Tekmetric allows you to manage all your OEM parts and inventory. You can do mass editing, track quantities, BIN numbers, and more. This article will show ways to manage your inventory in Tekmetric.
Inventory Valuation Reporting
Tekmetric reports the value of your inventory parts next to each part line item, as well as the total dollar amount your inventory costs.
Total Value of Parts - the total dollar amount your parts in inventory cost.
Total Value of Tires - the total dollar amount your tires in inventory cost.
Total Value of Inventory - Total Value of Parts + Total Value of Tires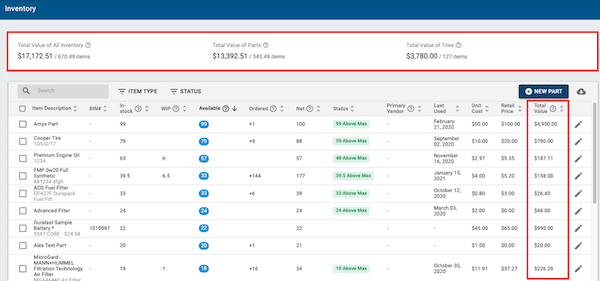 Filter Inventory
You can now filter your inventory based on part type or status
Part Type - you can filter your inventory between parts, tires, and batteries.
Part Status - you can filter your inventory list to focus on the following part statuses
Below Min Stock - filter your inventory list and focus only on parts that are below the set minimum quantity number.
Above Max Stock - filter your inventory list and focus only on parts that are above the set maximum quantity number.
Out-of-stock - filter your inventory list and focus only on parts that are out of stock and need to be ordered.
Primary Vendor - you can filter your inventory list to focus on specific vendors you order parts from

Primary Vendor
Tekmetric allows you to track who your primary vendor is for inventory items. This will help you and your team manage where to purchase any parts that are below minimum stock.
Bulk Deleting
Instead of deleting each part line individually, you can bulk delete inventory parts. To bulk delete, you would check the box to the very right of each part you'd like to delete, then click DELETE ITEMS.

Search Inventory
In order to quickly find inventory parts inside Tekmetric, you can use the search bar to query these parts by the following:
Part Number
Part Brand
Part Name
Alternate Part Number
Bin Number
Additional Details
NOTE: Tires can also be searched for by tire size and model
Quick Edit Sidebar
Instead of clicking into each part's profile, then editing, you can now edit straight from the inventory list using the Quick Edit Sidebar.
To edit a part's information (such as quantity, BIN location, unit cost, etc.), click the edit pencil icon to the very right of the part line. The sidebar will pop-up so you can edit the part information.
NOTE: You can update your part unit cost to show the average unit cost over the last 12 months. You can do this by clicking UPDATE under the unit cost within the edit sidebar.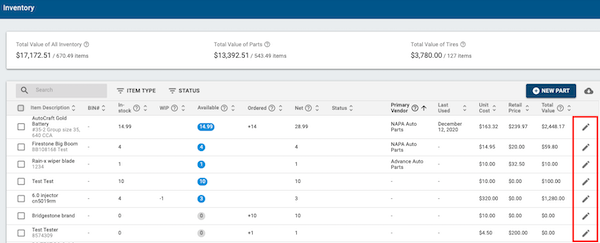 Downloading Inventory
Some shops prefer to filter and download their inventory into Excel. You can download your inventory by:
1. Filtering for what you wish to be included in your inventory download.
2. Clicking the download icon.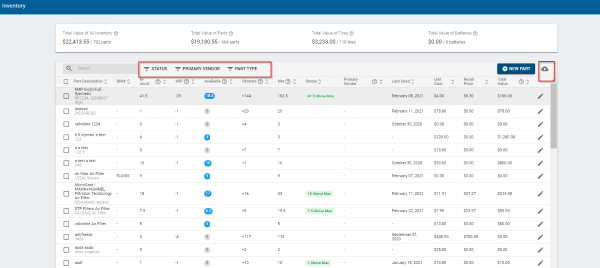 Returning a Part from Inventory
Sometimes shops need to return inventory parts, you can do this by:
1. Clicking into the inventory item you wish to return within inventory.
2. Scroll down to the order history, and find the specific order in which you want to return the inventory part and click the three dots, then click "return part".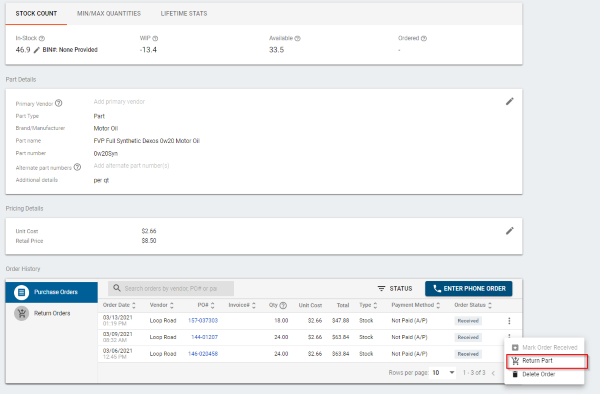 4. You will then enter the quantity that you wish to return and any notes pertaining to the return.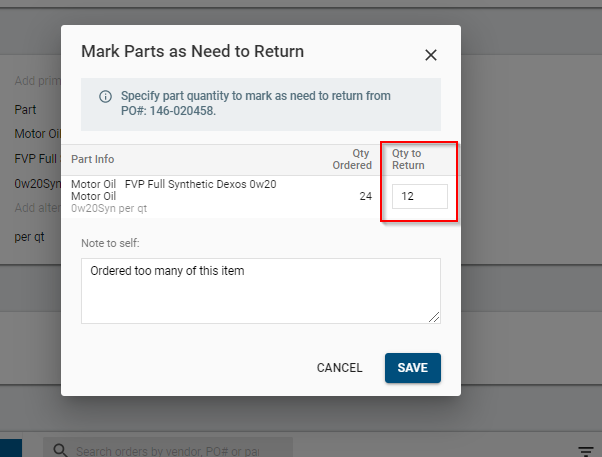 5. You will then complete the parts return process from the "Return Orders" tab of the "Order History" of the inventory item as shown in our Parts Returns video