Tekmetric allows you to manage and track all your stock orders in both the "Orders" and "Inventory" sections of Tekmetric. This article will show ways to add parts to your inventory, track lifetime stats of your part, and more!
To learn more on inventory mass editing, bulk deleting, cost value, please visit the Inventory Management article.
Add New Part to Inventory
Click the Inventory section on the left menu bar.
Click the blue + NEW PART button on the top right corner of your inventory list.
Choose whether the inventory item you are adding is a part, tire, or battery.
Fill in the part details, pricing, stock count fields.
Click the blue SAVE button.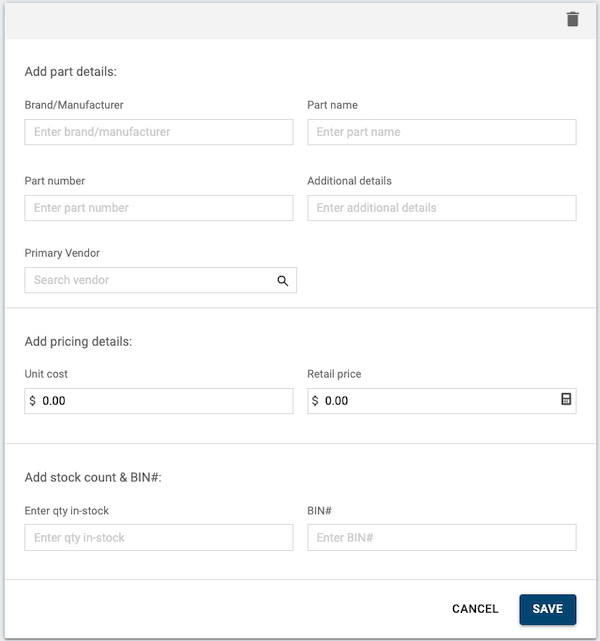 Part Profile
Within the part's profile, you can edit the cost, retail price, set min/max quantities, track the lifetime stats and view order history.
Stock Count
Tekmetric tracks how many parts are in stock, and what parts are in-use on any active repair orders.
In-Stock: the number of parts on your shelf

BIN #: what BIN/shelf the part is located on

WIP: the number of parts allocated to jobs that have been authorized by your customer
Available: In-stock quantity - WIP quantity (think of this as the amount unspoken for and still available for use).
Ordered: quantity ordered but have not been received (this added visibility helps you know if you have already have additional stock on it's way so you don't over-order).
Within Part's Profile

Within Inventory List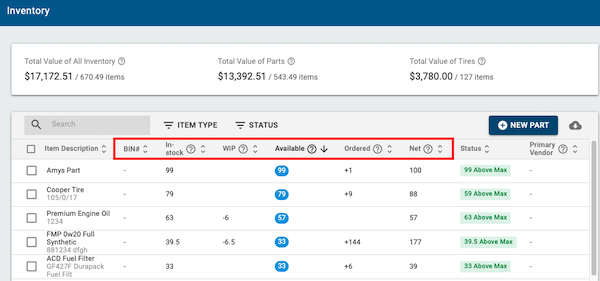 MIN/MAX Quantities
Tekmetric allows you to set a MIN/MAX quantities to trigger statuses.
Minimum Stock - Quantity you always want to have in stock. It is the minimum amount you want to always have on your shelf in order to meet customer demand.
Maximum Stock - Quantity you want to have a max of in stock. When your stock reaches this number, you no longer need to order more.
These MIN/MAX quantities will trigger the following different statuses on your inventory list:
Below Min Stock - parts that are below the set minimum stock number.
Above Max Stock - parts that are above the set maximum stock number.
Within Part's Profile

Within Inventory List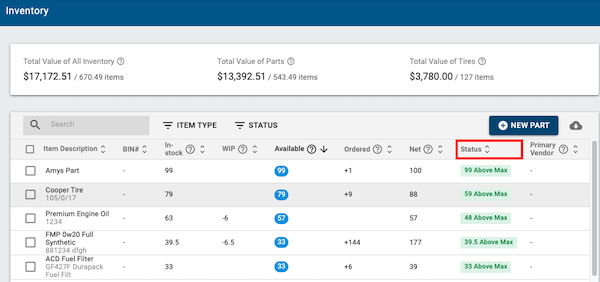 Lifetime Stats
Tekmetric will also show your part's total value for tax purposes and average cost metrics.
Total Value - part quantity on hand multiplied by the currently listed part cost. It is important to note that Tekmetric does not track each individual unit in inventory; so if someone changes the unit cost, that will affect the valuation. For example, if I order 1 part for $5, then later order another 2 for $4 and update my "cost" to $4 -- Then I will have valuation of $12 (qty 3 on hand * $4). My valuation will not be calculated as (1* $5 + 2 * $4) to get $13.
Lifetime Avg Cost - average unit cost of the part across all historic stock orders in Tekmetric. We do not include orders from past systems in this calculation.
Last 12 Months Avg Cost - The average unit cost of the part across associated stock orders in Tekmetric within the last 12 months.
Last Date Used - most recent date the inventory part was added to a posted RO
Within Part's Profile

Within Inventory List

Returning a Part from Inventory
Sometimes shops need to return inventory parts, you can do this by:
1. Clicking into the inventory item you wish to return within inventory
2. Scroll down to the order history, and find the specific order in which you want to return the inventory part and click the three dots, then click "return part"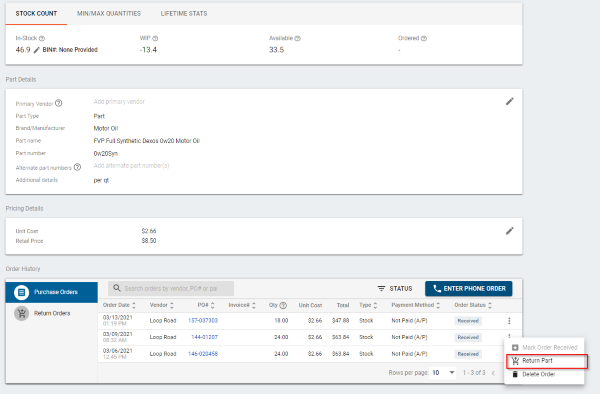 4. You will then enter the quantity that you wish to return and any notes pertaining to the return.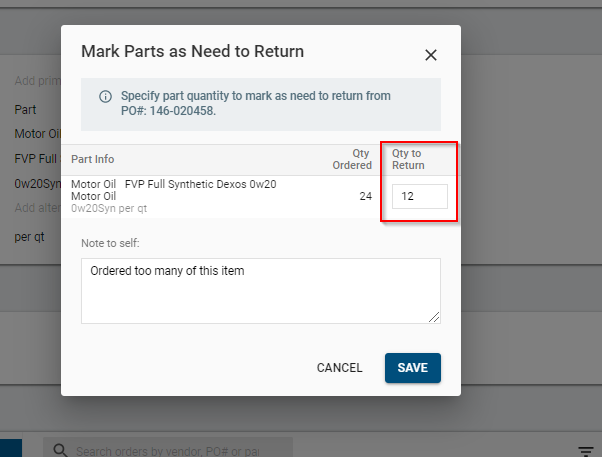 5. You will then complete the parts return process as shown in our Parts Returns video.