In Tekmetric you can manage and setup custom payment methods to apply when taking payments within a repair order. The options created here will be available in a drop-down menu when you select "Other" on the Payment tab of an RO. In the article, we will review the following:
Setup Custom Payment Methods
Click the Shop Settings section on the bottom of the left menu bar
Click the 2nd tab, RO SETTINGS.
RO Settings table - This table is where you setup most information regarding your repair order and estimates. It is where you set up your labor rates, shop fees, discounts, taxes, job categories, other payments, and advanced settings.
Click Payment Settings to set up the custom payment options.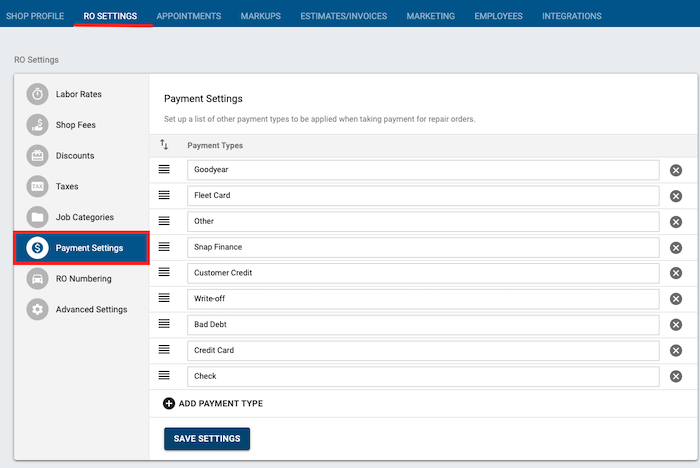 Add a Custom Payment method
Click ADD PAYMENT TYPE button to add a custom payment type.

Type out the new payment method you'd like to add.

Click the blue SAVE SETTINGS button.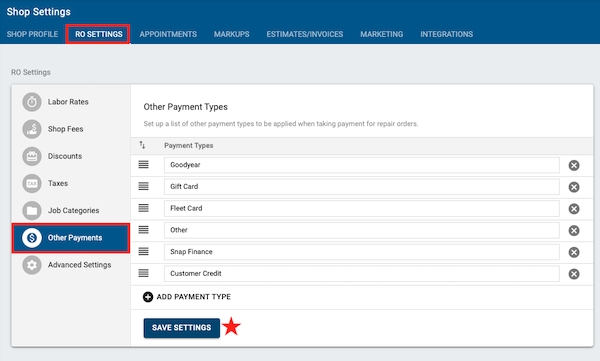 Remove a Custom Payment Type
Click on the X icon to the right of 'Payment Type' row to remove a method of payment.
Click SAVE SETTINGS button to save changes made.
Reorder Custom Payment Types
Click on the drag & drop icon (3 horizontal lines) to drag up or down a Payment Type.
Click SAVE SETTINGS button to save changes made.
NOTE: The order you have the payment types in your settings is the order it'll show in the drop down menu within the RO.