YOU are our priority.
There are multiple ways you can get ahold of Tekmetric's Support Team.
1) The Customer Resource Center within the App:
The quickest and most efficient way to contact our support is by clicking the question mark icon on the top right corner of your screen.
LIVE Chat
You can chat us from within the Tekmetric App from 8AM to 7 PM CST Monday through Friday. An agent will respond as quickly as possible.
Submit a Ticket
You can also submit a ticket if you found a bug, have workflow questions, or any integration questions. Submitting a ticket is recommended if you'd like to have the agent's response saved in your email. You will hear back usually within the first hour of submitting the ticket!
See screenshot below: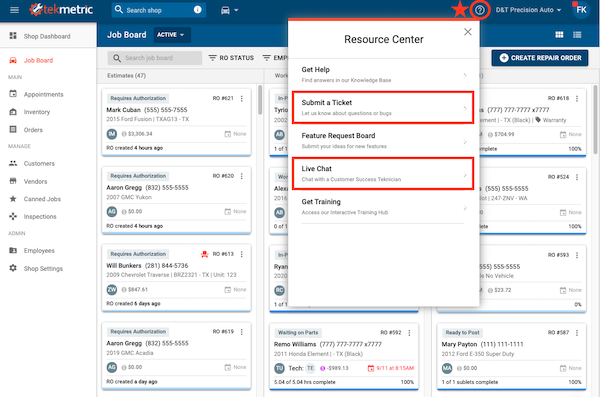 You will hear back from the team within the first hour of sending the email if it is between 6AM and 7PM CST Monday-Friday.
3) Call us at (832) 787-0900
You can call to speak to a customer support agent anytime:
Monday-Friday 6AM-7PM CST
Saturdays 8:30AM-5:30PM CST