After Tekmessage is setup and activated, you will see a message icon in the header of your shop. This will allow you to open the messaging sidebar.

If you do not have Tekmessage setup yet, click here.
Tekmessage Sidebar
When you click the message icon, the messaging side bar will be populated on the right side of your screen. The messaging side bar will show you a list of your messages.
In the Tekmessage sidebar, you can:
Create a new message
Search for an existing thread
Mark any or all of your messages as read
Mark certain messages as unread
View Customer's Profile
Create an Appointment
Create a Repair Order
NOTE: You can also set to have sound notification every time you receive a text by clicking the three dots to the top right (See image below).

Customer Messaging Center
After clicking the New Message button or selecting a Customer's thread, you can start to send messages (to any valid phone number on the customer's profile).
In the Messaging Center, you can also:
Choose which phone number to send the message
View customer's profile
Create and view upcoming appointments
Create and view active Repair Orders
NOTE: The green check icon indicates the message was delivered.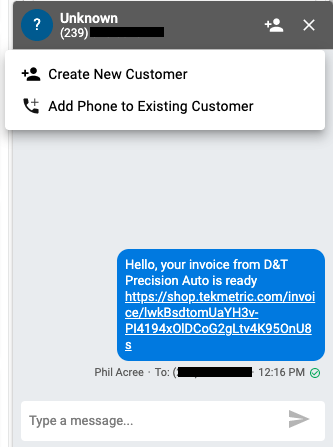 Sending Estimate/Invoices
You will still send estimates and invoices the same way you have been within Tekmetric by clicking the computer icon on the top right, then click Share Estimate or Invoice. If Tekmessage is activated, your customer can then reply by text to those messages. This will generate a notification stating you have one new message.
Customer's View versus Shop's View of Message Thread (example):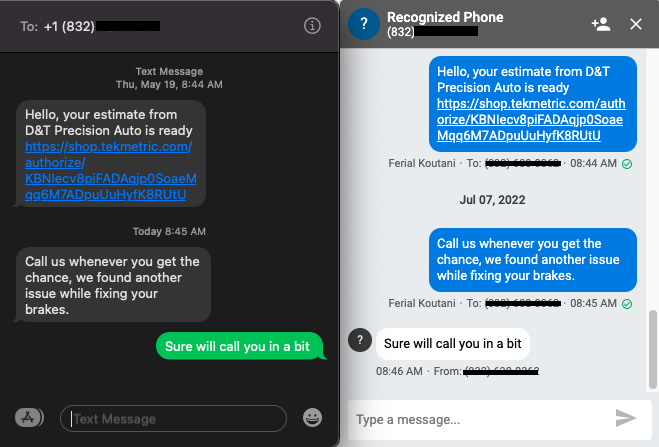 Locations to Access Messaging Center Within Tekmetric
A) Within the Repair Order
You can easily communicate with your customer from within the repair order! Just click the messaging icon next to their phone number on the grey RO sidebar.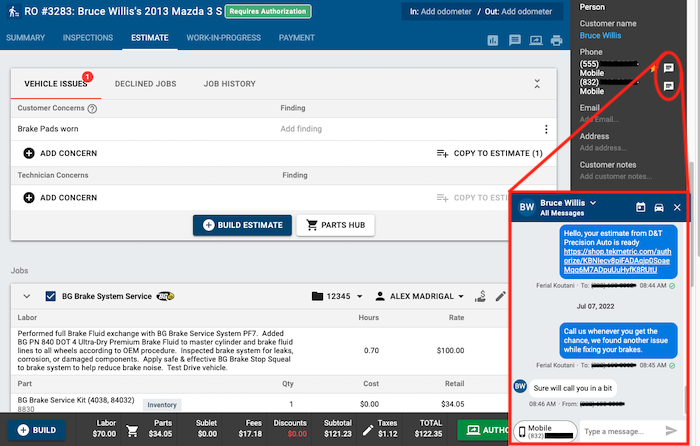 B) Within the Appointment
You can start a messaging thread by clicking the messaging icon within your customer's appointment.
Within Appointment View(s):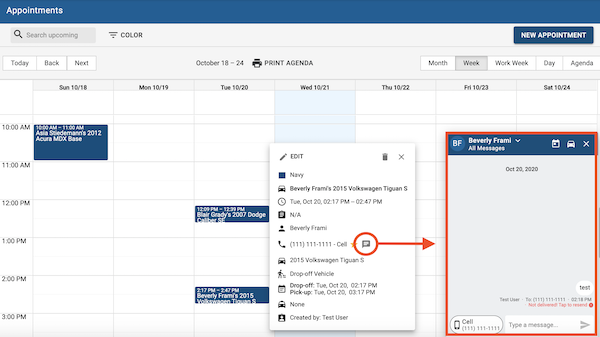 NOTE: If the message is not delivered, you will be notified and have the option to try to resend, as shown above.
Within Appointment Profile: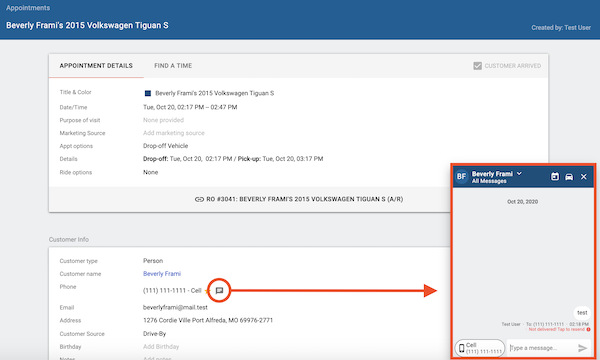 C) Within Customer Profile
You can start a messaging thread by clicking the messaging icon within your customer's profile.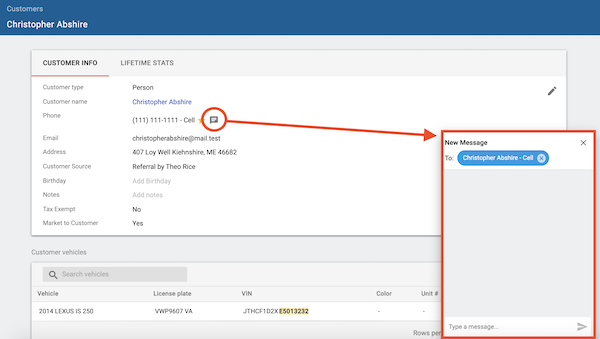 IMPORTANT - PLEASE NOTE:
Do NOT use personal mobile numbers - all your personal messages will then populate into the shop. Please be aware what number you choose to host.
You can NOT delete messages - be aware of what you send to your customers.
Everyone in the shop has access to view messages
If you are using your business phone number with any 3rd party services and want to use Tekmessage, the phone number will be hosted by Tekmetric and you will need to find a different phone number to use with those 3rd parties.
If at anytime, you need to switch phone carriers, please disconnect from Tekmessage and reconnect. This will allow the integration to reset and send messages again.
Please watch the short video clip below on how to use Tekmessage within your shop:
To setup Tekmessage, click here.