Tekmetric offers several resources to make sure you and your team have access to as much knowledge as possible. Below are the different ways you can access training resources at the tip of your fingers!
T

ekmetric Training Courses
Tekmetric offers mini courses for users who are in the onboarding phase or have little to no experience using the software. When an employee profile is created within Tekmetric, they will automatically have access to the training hub for free for the first 30 days. You can access the training hub by clicking inside of the question mark within Tekmetric > Get Training > Training Courses.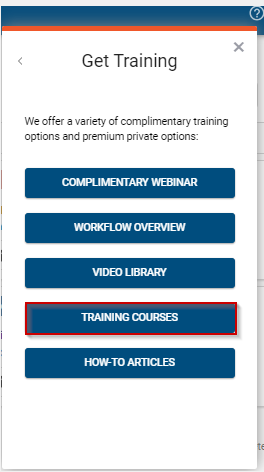 When the 30 days expire, the shop will have the option to continue having access to the hub for $50/month per shop. 
The Tekmetric Training Hub is designed and tailored for users who have never used Tekmetric. This method of training is not recommended if you are looking for best practices or to get a deeper level of understanding, but rather our Knowledge Base Center.
NOTE: If you would like to re-activate your account for the training hub, please contact our support at support@tekmetric.com.
Tekmetric's Knowledge Base is a free resource that has articles accessible to anyone who uses Tekmetric at any given time. These videos and articles are helpful for existing users who have a deeper understanding of the software. 
Tekmetric also has a free Video Library and Youtube channel where you can watch how-to video clips and more! 
Customer Support Team
Customers can contact our Customer Support team from within your Tekmetric shop by clicking the question mark icon on the top right corner to submit a ticket or live chat with our team.
Phone Number: 832-787-0900
Email: support@tekmetric.com
The support team is available the following times:
Monday - Friday: 6am - 7pm CST
Saturdays: 8:30am - 5:30pm CST
Weekly Complimentary Webinars
You can attend a live training with one of our Tekmetric experts on Tuesdays and Thursdays at 6:30pm CST. These trainings are built for our onboarding shops and will review a high level Repair Order Workflow. To book your spot, view our Training Webinar Schedule.