In this article, you will learn about how to properly set up and track commissions for your employee structures and track that information. In this article we will review how to:
Commissions Setup
Navigate to Shop Settings and then select the Employees tab. From here, you will see the Employee Commission Structure table.
Note: You can create as many commission structures as you would like.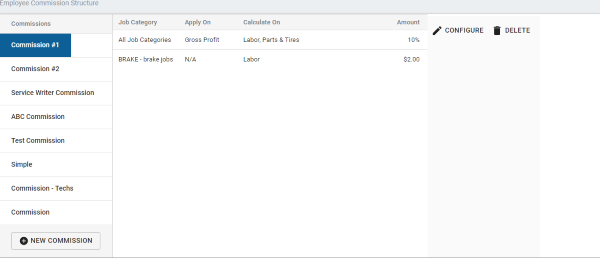 Creating a Commission
To create a Commission structure, simply select the New Commission button at the bottom left of the table. From there, you can edit your structure by editing the fields inside the creation pop-up window.
Select a Job Category from the available dropdown menu. This list will be populated based upon current job categories in your shop.
Note: We recommend to require job categories and techs on jobs in your Shop Settings!
Select the Method (percentage or fixed)


Percentage calculations - you will apply a percentage to either "Total Sales" or "Total Gross Profit."
Fixed calculations - this method would not be applied to Total Sales or Gross Profit, but rather any of the following:

Labor - if you select to apply on Labor, the employee will get a fixed dollar amount for every job that has a labor line.
Sublet - if you select to apply on Sublets, the employee (service writer only) will get a fixed dollar amount for every sublet job that has a sublet line of it.
Parts, Tires, and/or Batteries - if you select to apply on parts, tires, and/or batteries, the employee will get a fixed dollar amount for every quantity item sold.

Select whether you want it to apply on "Total Sales" or "Gross Profit"

"Total Sales" and "Gross Profit" will be the net of all discounts and will exclude any job level or RO level fees.

Choose how you would like the commission structure to be calculated. You can select any of the following options:

Labor

Sublets (commission based on sublets is only given to service writers)

Parts

Tires

Batteries

Select the amount and depending on the method selected, this can be a dollar amount or a fixed percentage.
Then after all the information looks correct, select Save.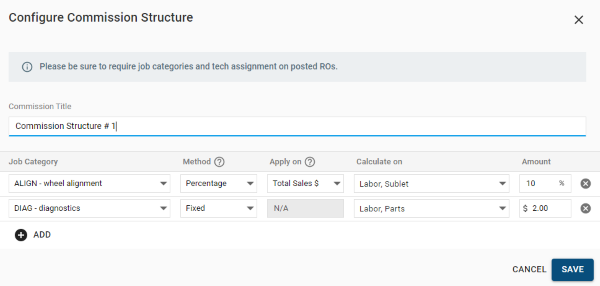 Note: Commissions structures are similar to setting up a parts matrix and are applied at the job level. This is to provide shops with more functionality due to every shop operating differently.
Setting up the Commission for Employees
Navigate to Employees section on the left menu bar and select an employee to add the commission structure to.
Select the edit pencil icon on the Role & Salary.
Select a commission that you have created from the dropdown list.
Select Save.

Note: The employee will get commission once an RO is posted or sent to Accounts Receivable.
Tracking Commissions
Navigate to the reports section and select Employee Reports. Here you will see the Employee Commissions Report. The report is printable and can be filtered by employee or job category. In addition, you can also filter by date or create a specific date range.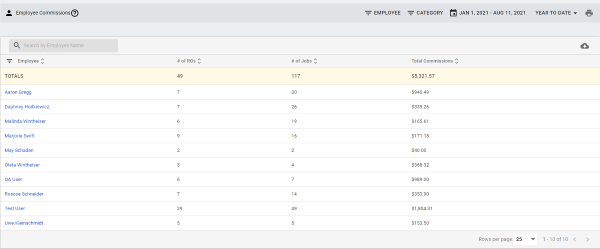 To see the details of each employee, simply click into the employee's name. This will then breakdown all of the data for you to see. In addition, a portion of the report is downloadable by selecting the cloud icon in the top right hand corner.

Note: If the employee does not have access to reporting, the employee can navigate to the My Commission tab in Shop Dashboard and view their own data.
Employee Permissions for Commissions
Please make sure the following permissions on turned on for the corresponding access:
Shop Settings - this will allow employees with this permission to setup and adjust the commission structure.
Employees - this will allow employees with this permission to apply commissions to employee profiles.
Reports > Employee Reports > Can View/Export Employee Commissions report - this will allow the employees with this permission to view and export the commissions report.

If you have any more questions about Commissions or how to set them up, please watch the video linked below!