The Back Office is a third-party company that sells a software called Accounting Link. This software allows you to connect your accounting software (Quickbooks or Peachtree) with Tekmetric to automate data population and reduce the manual entry into the accounting software. Think of Accounting Link as a customized data pipeline that transports your Tekmetric data into your accounting software. Since each shop runs differently, the Accounting Link software requires a custom setup to map out how Tekmetric data will be sent to your accounting system.
Connect Back Office with Tekmetric
1. Click the Shop Settings section on the bottom of the left menu bar
2. Click the tab 'INTEGRATIONS'
3. Click "MANAGE" in the Back Office box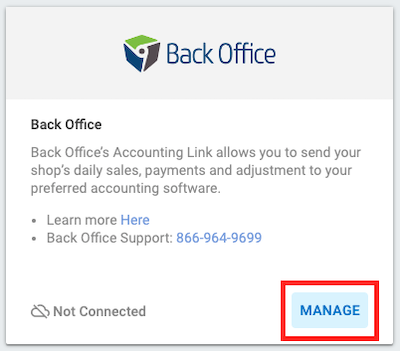 4. A window will appear and explaining Back Office pricing and features. If you wish to set up the integration, click "CONTINUE."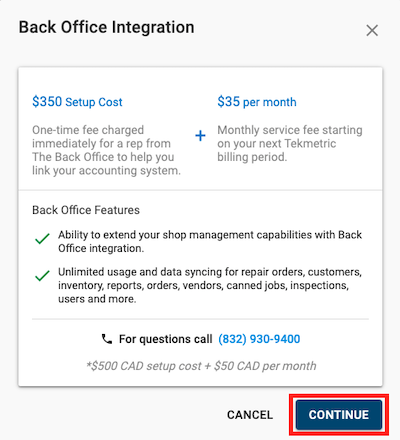 5. Select a 'Sync Start Date' - this date is the starting date in which the Back Office will begin pulling accounting data from Tekmetric. There are a few considerations in selecting this date:
6. You can retroactively pull data from Tekmetric. For example, if you launch in February and then decide later that year in October that you'd like to add The Back Office's Accounting Link Software, you can back-date your Accounting Link start date to retroactively pull data.
7. The earliest date you can select for a retroactive data pull is your Tekmetric launch date. Retroactive data cannot be pulled from migrated data.
8. Check the "I accept the Tekmetric terms and conditions" and click "CONTINUE"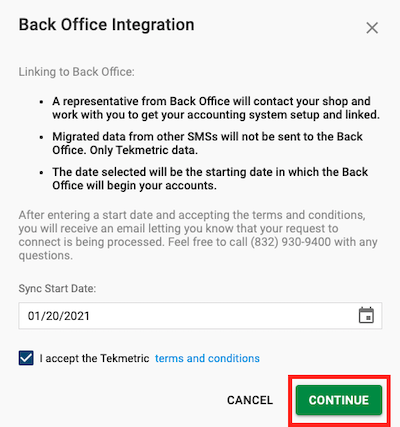 You will then see 'In Progress' in the Back Office Integration Box. At this point, a representative from The Back Office will contact your shop and work with you to get Accounting Link configured to properly map your Tekmetric shop to your accounting software and Chart of Accounts.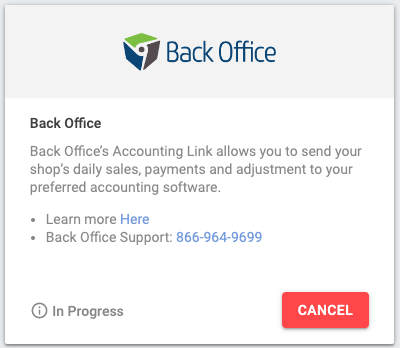 Disconnect /
Cancel Back Office with Tekmetric
If you would like to cancel your integration with The Back Office, please email us at support@tekmetric.com and let us know that you would like to cancel it. We will deactivate the integration on the back end.
Accounting Link FAQs
Migrated data from other shop management systems will not be sent to the Back Office. Only Tekmetric data.
Even if you are already using The Back Office's Accounting Link, the setup fee will still apply since complete re-mapping is required to adjust for Tekmetric's data structure.